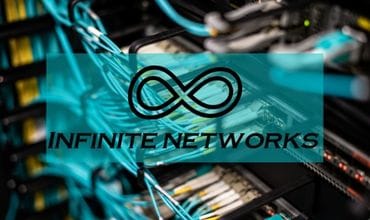 What does Infinite Networks do?
March 3, 2022 2:54 am
Sean Betti is the owner and president of Infinite Networks. Infinite Networks is a licensed Electrical and Telecommunications contractor as well as an Audio-visual systems provider. 
In this post, Sean gives us an overview of services offered by Infinite Networks and their work process. 
What kind of services does Infinite Networks provide?
Infinite Networks is a structured cabling contractor and systems integrator. We specialize in structured cabling, data center services, and audio-visual services. To elaborate a little bit more on our structured cabling offering, we install and design structured cabling for offices and for data centers including category six and other twisted-pair cabling fiber optics including single-mode and multi-mode. In the data center, we provide services to build network and storage infrastructure so we will install the structured cabling. We will rack and stack. We will provide auditing services and other troubleshooting services in the data center. For our audiovisual team, typically, we install video conferencing systems and offices. We also are capable of designing and installing training room audio visual systems and other lecture halls and other audiovisual experiences. Digital signage as well.  
What makes Infinite Networks stand out from its competitors?
One thing that sets us apart from our competitors is our proven process. We are working in a partner capacity with most of our customers where we help them define their needs and requirements and then work through the process to implementation and completion of the project. We have services that we offer throughout the US and also globally as well.   
Tell us more about your proven process. How do you maintain global standards?
So typically, a lot of our customers are expanding globally and they're opening satellite offices throughout the US and in other countries as well. What we do is help them define their office standards. So, we help them define the standards for their IT systems and their audiovisual systems. This helps to streamline the process of the quoting and also the implementation process, as well as maintaining standards so that their IT team can maintain the systems and troubleshoot them themselves.  
Some examples of this might be, that one of the customers last year opened up offices across the US in Chicago, Manhattan, Atlanta, Sydney, Australia, London, Paris, and Frankfurt. We were able to maintain the same standard across all of these locations. 
Infinite Networks is located in Campbell, California but provides dedicated customer services across the globe. If you are looking for a structured cabling provider, systems integrator, or audiovisual systems provider reach out to us at info@infinitenetworksinc.com or call on our Toll-Free number (844) 335-0114. Explore our other services here: https://infinitenetworksinc.com 
Categorised in: Audio-visual systems
This post was written by Kha Dev